To generate and print bid sheets you will need to have a Pre-Paid Auction Subscription activated and setup all your items for Pre-Bidding.  If you already have your items setup this way, skip to the next section below. 
Setting up your items for pre-bidding:
Step 1) You will need to activate Pre-Bidding on your auction.  Go to: Live Event Options > Event Settings > Pre-bidding on view only items > Hit "Yes".
Step 2) Jump over to the All Items page and add a new item.  Select "View Only" as the listing type.  You will see an option appear for "Pre-Bidding".  Select "Yes".
Step 3) Repeat steps 2 for every item you would like to generate a bid sheet for.  
If you have listed items with the pre-bid listing type, follow these steps to print the bid sheets.
Step 1) From the Auction Dashboard click on "Live Event Options > Bid Sheets".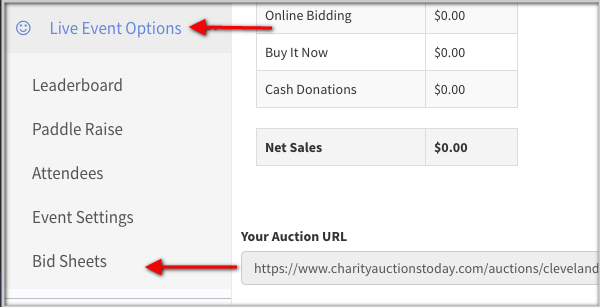 Step 2) You have the option to print the bid sheets in PDF or Word format.

Step 3) Click the format you would like the bid sheets in and the download will begin.